Our Round Robins Status
Yay !!!! Everyone has finished their round of stitching. I ended up being the last one to finish, it's been lots of fun. We'll be posting out this week for the next and final round. It's exciting. Here are how the 3 projects stand so far.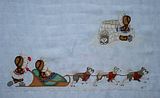 This is Larry's, I 'll be stitching on the top right next.



This is mine. Larry has done a great job adding his name, Hans will stitch his name in between.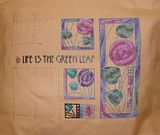 And this is Hans'. Larry will add the next side

Also I've been stashing in a big way the last month. We went to Darling Harbour for the craft show, got lots of hand dye fabrics. During our skiing holiday (which was cut short at the snow), we had a detour to
Dragonflydreams
in Blue Mountain, I got 2 Dracolair charts + specialty fibers there. Then I got more fabric + small kits at the Canberra craft show. Why do the shows tend to occur so close to each other ? I attended one of the workshop there to dye your own fabric. The technigue seems easy so I will try that sometime. In between I also received my biggest order from
ECC
consist of 4 Chatelaines kits + 2 Passione Ricamo kits. I think I need to go on a stash diet now. LOL
I have also done a bit more stitching as well. Part 1 of Annivesary Castle is done, I don't think I will do part 2 for now as it is the outer border, and as you can see, my 14x17" q-snap just fit the design. If I stitch the outer border, It will be a bit too big to handle like my mystery X now. I know I can go over the stitched piece with the smaller q-snap, but this has large rhodes stitches with 3 plies of silk. I'm a bit hessitent. Anyway here it is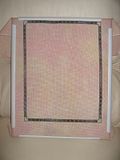 Also you can see the 1st roof of Mystery X here. There will be more rhodes to go in the middle chimney + more backstitching, I will do those when I come to do the other 3 roofs together.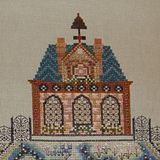 Thanks for looking.