Part 4, 5 and 6 wip
Well, I have to take the fabric off my q-snap so I decided to take a picture as well. This is half of part 4 and 5 plus a bit of part 6 in mystery X. I'm really enjoying this. And with so many blackwork with metallics. I am actually enjoying this now. Go figure... I quess we all change our like and dislike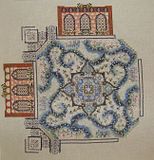 On another note, our RR is off now. YAY...
There will only be 3 people in it now as Sean was getting a bit busy and could not participate. So it's going to be a smaller RR but hopefully the next RR will be bigger. And we had the first posting. Mine is on its way to Larry in Alaska now. And I have actually recieved Hans project which I have been working on the last 2 nights. (Yes Mystery X is on hold a present.) I'll post a picture soon.
However I got hit by the frog last night. No I didn't miscount, but it's the stitches. You see, Hans' top stitches go from bottom left right to top left and I usually go the opposite. However for his RR, I have changed my way of stitching so the whole piece will fit. I was admiring the whole border at the end, but somehow, it looks slightly odd. Then it hit me, on the last part I have gone back to my style of stitching without realizing. So the project has stitches that goes in different directions. Lucky there weren't that many, so I ripped them out and restitched it last night. I have to pay more attention next time. It's actually giving me a new experience in stitching and it's fun. Ok maybe not the frog part, but that's a lesson to be learned.
BTW if you want to see our projects, Hans had set up his website quite nicely to show them off. You can see the whole projects
here