A much needed blog
Yes, this blog desperately needed an update.
Life had been too busy for last few months. So much had been happeningin these time. My stitching had been suffering, not as much done as I would like. Golden Kite has launched a new website + community, which as one of the moderators I have been involved a fair bit as well. I run another successful competition at IntricateXS before Xmas + celebrating this new community. Marcus donated 3 prizes this time which was great. During this time, my dear brother in law lost his battle with cancer.
The holiday season came and went, I can't believe it is almost a month since it was Xmas !!
I do have picture to show of my stitching, the panels from JOB are done. The backstitchng with metallic were killers, but it's done now, here is the picture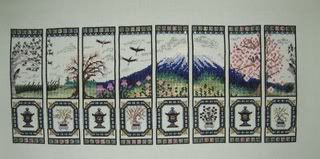 Also I have now completed Part 1 of Mystery X, yes I know, too many Chatelaine. I will stopped any more Chatelaine for now, I've been Chatelaine out I think, but Martina keep coming out with more and more beautiful projects. This will be my first big mystery and I shall try to keep up during this year. The keyword is "TRY" LOL Unfortunately I can't show picture of it as for some reason, photobucket won't load my picture. I'm not sure why, I'll keep trying.
Eekoon has reminded me about our SAL for Eight Immortals. Yes, some of us on BAPXS were going to start this last year, but never did. I see that she has done page 1 now which look very colourful and pretty. And apparently our friend Novia is going to do this as well which is cool. So I better get moving as I have all the stash just need the time.