Bonsai !!
Well, as we now have our own house with a backyard + garden etc. Amanda wanted to grow some flowers. So we headed towards the nursery and gardens shops. In one of this nursery, there is an area for Bonsai. I have always been facinating by bonsai. Hey, I''ve watched The Karate Kid with Mr Miyagi. It's amazing looking at some of the trees that they have. One was planted in 1951, and the prize was A$8000 +.
Anyway, I started talking to the shop owner about these bonsai in general. And he informed me that he ran courses for people who are interested. So I signed up the 1 day beginner course. And yesterday I attended the course and this is my tree at the end of the course. What do you think ?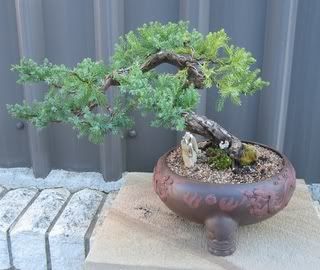 Yes, it is actually an old tree. The owner has many starter or young trees for us to choose from, but he also some old starter trees as well. And I picked one of the more mature one of course. This was actually a bonsai before and was initially planted in 1962 hence the thick trunk. Apparently there was some problem so he had to cut the top of the tree off. He then let the newer bark grows on the side and yesterday I made it into my tree. It is a Juniper tree, I don't know what species though. Apparently it is a popular first bonsai. We started off by cleaning the tree by cutting and trimming the new parts. Then wired up the branches. Next we freed up the roots and trimmed of some of them as well. Finally potted it and I decorated it with some mosh and gravel and I bought an on figurine to put on top of the gravels. Doesn't it look good ? I am so happy with the outcome.
I really enjoyed my experience. This morning I went through my roster and do some swapping around, so I will do the introductory course next. Which will run for 6 weeks and this time many of the technigues will be given in more details and we will also do different type of trees. At the end of the 6 weeks I will have 5 more trees of different types. That will start in October, and I can't wait.
Ok I better get back to stitching now. Oh if you are interested, here is the link to the bonsai shop