My latest crafts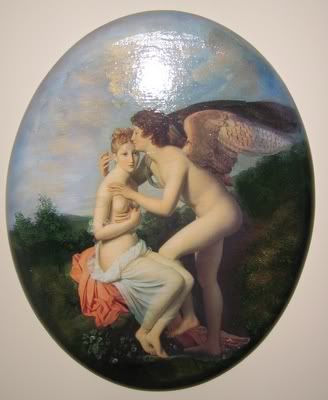 No this is not a stitched piece. We had a craft show in Canberra a few weeks ago. My wife went and attended a decopage (?spelling) course. After seeing what she was doing and Vivienne finally fell asleep. Yes, I had the babysitting duty earlier. I decided to do it as well. And this was what I did 3-4 hours later. We both had fun on that day.
What did I actually do ? Basically, I got the print which was on paper and glued it onto the canvas. Then extend the painting background to the rest of the canvas with paints. Yes, paints. That was my great weakness as while I'm good with colour and thread, but when it come to paints and brushes. I'm terrible. Nerida, the instructor had to come and help me out frequently. Notice the wings on the edge, that's my work with the brushes. You can tell it's so much different from the original painting from Louvre. LOL But I'm quite proud of my achievement and it is now hanging in our bedroom
We finally have and moved into our first own house now, with a big morgage on the bank of course. We also need a little bit of improvement, mainly downstair which is also our craft rooms. Hence most of my stitching goods are packed away so I can't use my stitching stand. I have been stitching with q-snap in hand, but my progress is slow as I can't stitch with both hands. So I made a resting stand. And here it is.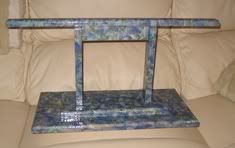 It is made from some left over wood pieces which I joint together. Then I decopaged it with some Japanese rice paper. This time there is no painting involved, just overlap the paper to get coverage. Much easier !! After a few layers of vanirsh. It turn out a lot nicer than I think. Now I rest this little gadget on my lap while I'm in the sofa, then I rest my q-snap on top and I can stitch with both hands again. Not bad for a few days of work.