More Rotations and Stash
Hmm, I've noticed something interesting. I can't do html correction on the Apple at work. How weird ? Maybe I'm just not familiar with Apple as yet. I have to do those later at home. Anyway, more update. Since March I have now finished the Horse. thus getting closer to my new years goals. I don't think I will have any of my new BAP finished by the end of the year. Still have Tutenkhamun adn Wedding Blessing to go from last year. WB had become UFO for a while, but my African Stitch yahoo group is holding a monthly UFO day so I have been doing it at least once a month. Tut is nearly finished. I have to sit at the dining table to do this due to the space I need to handle the beads which is why it is slow.
I have also started another project, Twinkle Twilight. This is a new kit I got from visiting the LNS in Canberra. It's not a big piece and I hope I can finish it by the time the baby is born and add his/her name on it. I changed the aida into Jobelin which I hope will make it looks even nicer. You can see the design by Maria Van Schrrenburg below. Wouldn't it be a nice decoration on the baby's nursery ?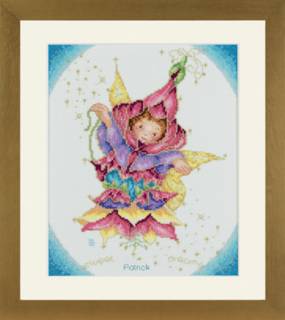 I also started Snow Wolves as my lap frame was a bit lonely and naked on the shelf so I put the fabric on it. I figured it's small enough so I can take it with me when we go away on short trips (Sydney). Both these were started in April. Also after a few discussion with Amanda I now pick up her baby afgan that she started a long time ago. The baby will be born soon she said and you are better than me in XS. I don't enjoy working on free hand though. I'll post some pictures when there are more to see.
Harmony was on top of my new year goal. I had some difficulty getting the fabric I want. I got a 32 count Belfast linen initially but after close look at it at home. Decided I don't like the slubs on the fabric. So I went back to the LNS and got a 32 co Jobelin. I like this much better and should start on this in the near future.
I have also been browsing on ebay and have manage to add a few more stash. I got Angel of the Morning frm L&L, the seller at the time was offering combine postage thus Angel of Freedom was also added.Talk about instant buying. I'm not sure when i will stitch these but they are in my collection now. Also I saw a cheap deal on Dimension Gold Japanese Maiden and baught that too. I thought it would look good with my Mighty Samurai. What do you think ?
So that's another Oriental female designs on my stash now. What can I say. I am Chinese by decendent. LOL. If only I don't have to work and just stay at home and stitch all these stash.